I may never contribute something great to society, something like a new syrup, but in my own small way, I think I've made the world a better place.
One way I've made the world a better place is to be constantly questioning and thereby improving the world around me. Like this week, when I was getting out the syrup for the pancakes on "egg night dinner" and began to wonder why we
only
have maple syrup. I've never seen anything
other than
maple syrup. But there's tons and tons of trees out there, trees like oak trees and birch trees and... other trees. I'm not a tree expert. But there are lots of trees.
So, I wondered, as I'm doing now, why don't we have "oak syrup" and "birch syrup" and things like that? And that led, as it always does, to two natural thoughts: One,
google it
, and, two,
could I somehow turn this into a backyard industry that would take off and make me rich and I'd move to Hawaii?
After careful investigation consisting of googling such phrases as
why do we only have maple syrup
and
can you make syrup from other trees
, I found nothing. This led me, naturally, to believe that I had, through my genius, inquisitive nature, come up with the only remaining entirely unique idea -- since everyone knows that
pretty much everything has already been invented and all the great ideas have been thought up alr
eady -- which meant, naturally, that my
second
natural thought would be correct: I could turn this idea into millions, differentiating this idea from the other great inventions I've come up with in my life, like the in-the-cupboard-dishwasher, and the EZ Mov-R.
But then, when I as a failsafe googled
birch syrup
I found out that
someone had stolen my idea.
And that someone is some people in Alaska, who claim to be the leading producer of "birch syrup," which I could also produce, I suppose, because the trees behind the idea-stealers in this picture:

look a lot like the trees in my backyard-- except the trees in my backyard have a lot of nicks around the base where I run into them with the lawnmower-- so the trees in my backyard are probably birch trees and I could probably make birch syrup, which the idea-stealers claim is very difficult but is probably so easy it's like picking money off the money tree. After all, if a couple of people who aren't smart enough to move out of Alaska could do it, so could I, right?

My imagination began to work. Starting a Birch Syrup business would have untold benefits even beyond getting rich and moving to Hawaii. For example, how awesome would this be:
I start producing "Birch Syrup" and it catches on here stateside instead of just in Alaska where nobody ever goes and where it's dark 11 1/2 months per year, the only exception being the two weeks that Al Pacino is there trying to catch Robin Williams for murdering someone, and after the syrup catches on here stateside, I become rich, and I move to Hawaii with my family, and then I fly in my dad and explain to him how I got there and then I say this:

So, I guess money DOES grow on trees.

That would be the second-best comeback on a parent ever. (The first best comeback on parents ever has already occurred when spinach started killing people. That showed parents. You know what never killed anybody? Ranch puffs.)

By the way, I took a break from writing this to read the idea-stealers' description of how to make birch syrup and it sounds totally easy, except for the reverse osmosis part, but I'm sure I could figure out what that is by having The Boy bring his science book home one day.

Still, I probably will not have time right away to build a Birch Syrup empire and get into a price war with those Alaska idea-stealers (a couple who, as it turns out, make up 78% of Alaska's population) because I have many other important responsibilities in my life, responsibilities which include inventing new sandwiches and deciding who in our family really doesn't stop believin'.

I have invented numerous sandwiches in my lifetime, most of them, I'm sure, destined for greatness just like me and my eventual Birch Syrup empire. The latest is the Bologna-and-Spongebob-Macaroni sandwich. Here are the ingredients for the Bologna-and-Spongebob-Macaroni sandwich:

Bread.
Bologna
Cold Spongebob Macaroni and cheese.
Bread again.

To make it, you put it all on there, mush it down, then microwave it for 2 minutes, then put it in the fridge overnight. That last part is the most important part of any sandwich: You've got to really melt the stuff together, then flash-freeze it so that the cheese conglomerates--

-- yes, I'm sure that's the right word --

into a gooey mass that will allow you to eat the sandwich with one hand while you watch "Weekend At Bernie's" on the internet at work the next day. If you need two hands to eat the sandwich, it's too much work.
And I have too much work in my life already, because I constantly have to be parenting. Take this morning: I was getting ready to head into the office for a while, like I do almost every Saturday because it's that or stay home and do housework, and I was getting out my iPod to listen to on the way in. The first song that came up was "Don't Stop Believin'" by Journey, a song I don't like but the kids do. So I said, to The Boy and Middle,

"Hey, it's The Boy's song, Don't Stop Believin'." And Middle took offense at that, and said it was more her song than The Boy's. I disagreed, and told her that The Boy, far more than her, doesn't stop believin', and so it should be his song.

Middle, though, pointed out that The Boy had stopped watching the Wisconsin Badgers' NCAA Tournament game against Davidson last night with a whole minute left, when Wisconsin was down by 17 and had no realistic chance to win. I asked The Boy if that was true and he said it was but claimed that it was just because he wanted to get started cleaning up after dinner.

Now, in our household, there are only a few unforgiveable sins. There are a million rules, but only a few of those rules are unpardonable when broken. The Unbreakable Rules are:


1. Leftover pizza is first come-first serve. In other words, Dad is under no obligation to not eat the leftover pizza for breakfast just because you wanted it for lunch. So quit complaining and get up earlier if you want it.
2. Never give up on your team.
3. We are on Jennifer Aniston's side.

That last one is really one of Sweetie's rules. It's so sad when celebrities break up and you have to choose sides, really, because once upon a time we were all allowed to watch "Ocean's 11" and "The Mexican" and enjoy them, but now I've never even seen "Mr. and Mrs. Smith" because when Brad and Jennifer broke up, we took Jennifer's side, so while we can
watch "Friends" reruns we can't see "Beowulf."

But it's Unbreakable Rule number 2 that The Boy broke, and when he confirmed that he had, I had to reprimand him for it:

"I can't believe you stopped believin'," I told him. "I'm giving that song to Middle. It's now officially her song."

Middle looked pleased. And I left for the office, secure in the knowledge that even if I did not, today, begin my Birch Syrup empire, I had at least done my part to improve the world around me.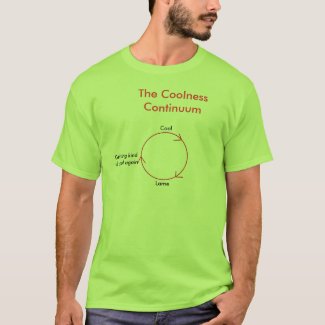 The Coolness Continuum
by
brianefp
Get this
custom shirt
at
Zazzle