Most Saturdays, I go into the office in the morning for a while. There's a couple of reasons I do that.
It lets me get caught up on work that I didn't quite get to during the week -- which is to say,
everything.
Each week, I start out with a list of things I hope to accomplish. This past week, I finished the second item on the list. On Friday afternoon. At 4:30. I celebrated that accomplishment by leaving early, which lets you in on part of the reason why I never get very far on my list.
Another reason is that it shows my boss that I'm hardworking. He comes in on Saturdays a lot, too, and when he sees me there, working hard, he's impressed (I hope) with my drive and gumption. It's worked so far; I've been there 8 years now. He never thinks to ask me how come I don't get all my work done during the week, or how come I celebrate getting 1/10 of my work done by going home early, and I'm hoping it won't occur to him.
A final reason is that it gets me away from garbage cans that have rattlesnakes in them and sing.
I've been a little skittish
since we began tearing down the shed in our yard and discovered that there are almost as many raccoons living on our land as their are people
. Since raccoons are almost as dangerous as teenagers, and slightly more likely to be rabid, our house has seemed a littel unsafe to me lately.
I've never pretended to be an adventurer. Okay, that's not exactly true. I've
pretended
to be an
adventurer, of course.
When I was a kid, we'd pretend to be superheroes and Jedis and G.I. Joe
. When I got older, I stopped "pretending"
per se
, but continued to
act
tough by, for example, going out for sports and joining the "Wilderness Club," a club where we'd go to actual wilderness and do actual wilderness-y things like rock climbing or canoeing for a week or backpacking, or canoeing up a rock with backpacks on, or whatever seemed to be tough.
I hated it. My idea of a relaxing time was and always has been reading a good book, or watching a good tv show, or reading a good book based on a good tv
show. And while camping allowed lots of time to read, you only got to the reading part by stowing your
Star Wars
novels into a backpack, wrapped in plastic wrap next to your freeze-dried ground beef that you were supposed to mix with boiled water to reconstitute but which you would end up eating like a dry-beef candy bar because you were tired and sunburnt, and then once your incredibly heavy backpack was loaded up, you'd hike for 10 or 20 or 50 miles or however long it took to make your legs go numb, then you'd stop, put up your tent and finally get a chance to read but your books were wet because the water bottle that you'd packed to help reconstitute your beef had leaked onto them, so you had no water, dry beef, soggy books, and then the tent would collapse, or, worse, you'd get "hazed" by guys you didn't like in the first place who would give you pink belly or handcuff you to the hammock you'd fallen asleep in and then leave you there without bug spray for two hours so that you had so many mosquito bites your skin looked like it was stucco.
That actually happened. I still itch.
Eventually, I stopped kidding myself, and eventually was when I was about 28 and went on a camping trip that lasted exactly one night. We hiked, camped out, and the next day, hiked back to our car, went and took a shower, and went to the amusement parks at the Wisconsin Dells.
I did go bungee jumping on that 'camping trip,' which would be kind of adventurous except it's not at all that way when
I'm
the one doing it. I rode the little elevator up to the top and got hooked up to the cord and the guy walked me to the edge of the little platform. I kept my eyes resolutely ahead and closed and he said "
I'm going to count to three and let go. Why don't you look down?
"
"
I don't want to look down,
" I said, adventuresomely.
"
Go ahead and look down,"
he urged me.
"
I would rather not look down,"
I insisted, just the way that Batman might have insisted it if Batman were a 28-year-old who was scared of heights and was also worried that he might have ticks from his recent brief camping trip.
"
Just look down,"
the guy said one more time. If I had not been strapped to a harness on the end of a diving board that was roughly 100 miles above the ground, I would have bitten him or something.
"
If I look down,"
I said, in a heroic manner, "
Will you just let me go and get this over with?"
"
Yes
," he said. I looked down. The stuntman cushion thing that was supposed to "save" me in the event of an accident was postage-stamp sized. It also did not appear to be anywhere near where I would be falling, although it was hard to tell because it was so far away. I think I also had trouble seeing it because of all the major passenger jets that were flying between me and the ground.
Also, right then, the guy let go of me with no warning. I like to think that from the ground, my shrieks of terror sounded extremely manly.
So that's my background in adventuring, which is why I have no ready reactions when there are rattlesnakes in my garbage cans.
This is how it happened: I was doing The Boy's chores for him on Thursday night, because he has final exams
and
the NBA Finals were on. I'm no dummy. I know that on a
good
night homework is 117th on the list of things The Boy will do. It's number one on the list of things he'll
tell
me he did. This is how he'll do that: Me:
Did you do your homework?
The Boy:
Yes.
Me:
Did you?
The Boy:
kind of.
Me:
What does that mean?
The Boy:
My teacher hates me.
I'm
amazed
at the number of stupid child-hating people that went into teaching in our school district. By my count,
every single teacher
the kids have ever had has hated kids, and hated our kids especially, and also doesn't know what they're talking about. You'd think the district would weed those people out at some point, but there they are, giving kids bad grades for no reason whatsoever.
"No reason whatsoever" very frequently turns out to be
"Because they did not turn in any homework in the past 4 weeks,"
and the past 4 weeks also happen to coincide with the NBA playoffs. So I made The Boy a deal and said I'd do his chores, cleaning up after dinner, while he studied. It takes The Boy over an hour to do his chores each night, so that gave him plenty of time to study before his game started. It takes me less than 20 minutes to do his chores, but I save time by not counting "surfing the Internet on the computer" and "watching the pregame on ESPN" as part of the chores.
The last part of the chores was to take the garbage out to the curb for pickup the next day, and I took the kitchen garbage downstairs to do that. I put the garbage bag into the least-full can, and was ready to start hauling them out when I heard a distinct rattle.
Despite my lack of adventuring background, I know exactly what a rattlesnake sounds like, because I watched the TV show "
Fury
" when I was a kid, and I have two memories of that show that guide me through life. "
Fury
" was about a kid named Joey and his black horse, and possibly his Uncle Charlie, although I may be confusing that part with
My Three Sons
, the other show that helped form all of my rules about life, rules like
If you have triplets, make sure you do something to tell them apart because it's embarrasing to keep going back to the hospital to have them sorted out
, that being the plot of one of the episodes of
My Three Sons.
The two plot points I remember from
Fury
were these: in one episode, Joey was riding Fury and he went under a low-hanging branch and hit his eyes and was temporarily blinded. And in another, there was a rattlesnake. I've never forgotten the sound that rattlesnake made. I forgot everything else about that episode, but I remember that sound.
That's how I recognized that there was a rattlesnake in our garbage cans on Thursday night, something I was more than prepared to accept, given our other wildlife encounters. For all I knew, the rattlesnake had been living in the shed until we began tearing that apart, so it had moved into the garage.
Not remembering the
Fury
episode, I was at a loss for what to do. I knew that I should duck if there were low-hanging branches, and I was pretty sure I wouldn't mix up the triplets, but my life had left me unprepared for rattlesnakes in the garbage cans.
I considered, for a moment, going in and telling The Boy "
Deal's off
," but that would probably make me look bad at the emergency room where we'd have to tell why The Boy was taking the garbage out. So I did the only other thing I know for sure to do in an emergency: I froze.
Don't knock standing perfectly still in an emergency. I'm sure there are plenty of situations where the hero has to stand absolutely motionless to avert disaster. Like what if there are low hanging branches all around him?
Stand still!
So I stood there, listening to the rattle and watching the garbage can warily. In my mind, this took hours. In reality, it probably took about 10 seconds. But I stood there for mental hours, listening to the rattle, and here is
exactly
what I thought as I heard the rattle:
Where is it? Can it see me? Is it in the garbage can? I should have a plan in case I see it. I should get something to block it from getting me. Will animal control come and get it? How do you find the number for animal control? Didn't that guy on the crocodile show once catch a snake? How did he do that? It sure is sad that he's dead. I liked his show. That new guy that just eats bugs and throws up is no good.
So my best plan, as time wore on, would have boiled down to "
get that guy that eats bugs and throw him at the snake
," but luckily the rattling stopped.
It was dead silent in our garage, and I wracked my brain to think what the
stopping
rattling meant. Was the snake going away? Was it about to strike?
Why don't more TV shows cover this topic?!
I still didn't move, until I heard something even more chilling:
Something was singing about his hands and feet.
Seriously, that freaked me out
even worse
at first. I thought, quite honestly I thought, that the
snake
was
singing.
"The foot bone's connected to the leg bone,"
I heard, and as that seeped in I
realized it was not a snake, it was Learning Puppy, a little stuffed dog we'd bought for the
Babies!
who sings about colors and feet and things when you punch him, teaching kids that if you beat someone up enough, they'll amuse you -- which is more or less what leads to Wilderness Club participants hazing the slower, fatter kids who just want to read their
Star Wars
books, but that's besides the point.
I stood there in the garage, feeling my heartbeat slow down, and listening to Learning Puppy tell me what other things were connected to things, and finally got up enough courage to move the garbage bag I'd just thrown, expecting a giant Rattlesnake of Death to leap out, with a malevolent Learning Puppy riding it, and bite me to death.
Instead, I saw Learning Puppy sitting underneath a pile of cat litter that had poured out of the box that had been thrown away. It seems that we'd bought the wrong kind of cat litter, 25 pounds of the wrong kind, the kind that the delicate, sensitive paws of our cats couldn't tolerate, so we'd thrown that out and also thrown out Learning Puppy for some reason. When I'd thrown the garbage bag in there, it had tipped over the litter, which had spilled out onto a plastic tub and made the rattling sound, and when that was done spilling, the bag had settled onto Learning Puppy's foot and he'd been inspired to tell me about body parts.
Learning Puppy continued to sing quietly as I hauled the garbage cans out to the curb, softly warbling to the night about whether his ears hung down and they waggled all around. I strode manfully back into the house and manfully decided that from here on out, The Boy does his own chores.
Want a free t-shirt
? Of course you do. Click there to find out how you can get one courtesy of
The Best of Everything: Our Opinions Are Righter Than Yours
.
Babies! Babies! Pets! Pets! wants you to submit photos of... Babies! and Pets!
. Check out the photos there, and send your own to win a t-shirt!
Bumblebeez: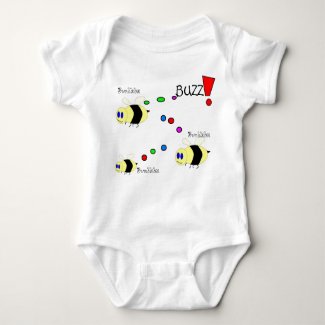 Bumblebeez
by

brianefp

Get this
custom shirt
at
Zazzle