Here's the problem I have today. I can't decide if my sweater is green or gray, and I can't ask anyone because then they'll think I'm crazy.
I got out my sweater this morning after looking at my sweater drawer and deciding this:
I will wear the green sweater with little white squares on the front.
I decided that because next in line to wear for work were my black pants (the test pants, the ones that if they get too tight I will go on a diet, but they're not too tight... yet) and the green sweater went with the Black Test Pants.
Then I left for work and later on I had to go to the doctor because Mr F might have broken my nose and deviated my septum back in January, leading me to treat that possibly-broken-deviated appendage in October, and as I walked out of the doctor's office with the news that, yes, my septum really, really is deviated (he said it was like a letter "C" but that's exaggerating), I looked at my sweater, and it was
gray.
It was gray all the way back to my office and stayed gray throughout lunch but now, it's green again.
All of which leads me to listen to
Robot Ponies
by Laura Barrett because I was listening to it in the car, too, when my sweater was gray, so I thought that might maybe be connected.
"Down... to go" is me counting down my iPod songs, just like I did here.
Click here to read about song 27.

Got a little more time?
Read about why I'm so terrible at punishing the kids, in

There is A Deterrent Effect But It's Not What You'd Imagine.
Balding: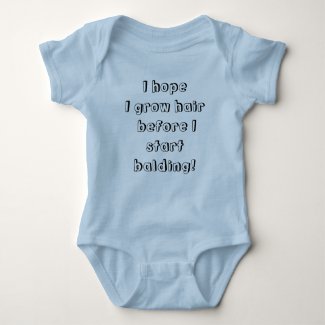 Hope
by

brianefp

Get this
custom shirt
at
Zazzle