As vacations draw to a close, I try to stretch them out, cram a little more in, let it not end.
I'm always afraid of things
ending.
I like the run-up to things almost as much as the actual thing; maybe more when you factor in that during the event I'm a little sad because the fact that I'm taking part in the event means it's almost over.
It's like Christmas. I love the period of time from Thanksgiving to Christmas Eve -- the cookies, songs, get-togethers, shopping, special episodes of TV shows, all of that. On Christmas Eve, though, I'm a little sad because the fact that it's Christmas Eve means that Christmas is more or less over.
I was raised to look at things as being almost over. Every year, for as long as I can remember, my Dad has announced that summer is nearly over. He used to do that on the Fourth of July. We'd be having a barbecue or getting read to march with the rest of our t-ball team in the local parade (One year, I was on "Liebert Insurance." Another, I was on "Hartland Meats." "Hartland Meats" was the most-made-fun-of t-ball team) and Dad would say "Well, summer is nearly over now." He moved it up over the years. Now, he calls me the first week of June. "
You know, Fourth of July is coming up. Summer's almost over."
With Orlando, I anticipated the end before it began. Tuesday night, after everyone went to bed and tried to get in their 4 hours' sleep before we left, I sat in the quiet house,
exactly
the way I do on Christmas Eve. I looked at the suitcases, and my "traveling outfit" laid out, and my camera and wallet and cellphone, and felt a little down. All the planning and mapquesting and getting Crocs for the Babies! to wear in the ocean... it was all ending.
So you can imagine how wistful I get when the vacation is, in fact, coming to an end. I began trying to stretch it out on Friday night, after the gators and shopping. Mr F and Mr Bunches had dozed off in their car seats, so I used that as an excuse to let them go on napping while we went around and took some pictures, visiting the World's Largest Orange to take a photo of that, letting Middle visit some shoe stores. Later that night, we stopped by the Shell Shop and then got everyone a Twistee Treat.
Orlando, like all good tourist towns, has a variety of oddly-shaped buildings. The Twistee Treat was one; the World's Largest Orange another. Near the Twistee Treat was a castle, and it was for sale. "
We should buy that,
" I told Sweetie. "
We could move to Orlando and live in a castle.
" When she refused, I sweetened the deal: "
I'll make sure it's air-conditioned,
" I promised. Still no go.
I can't imagine a better life than living in a castle, just down the street from a giant ice cream cone and the World's Largest Orange, a place where the streets have names like "Seven Dwarfs Lane" and every other exit promises a theme park at the end of it.
Saturday was the last day of our vacation. We began it with Sweetie and Middle indulging themselves with a spa treatment while The Boy and I took the Babies! to the pool to worry about them dry-drowning.
"Dry-drowning," as you've probably never heard, is something that happens when a person inhales water into their lungs but doesn't die until they're well away from the water. I first heard about dry-drowning about a month ago. In 39 1/2 years, "dry drowning" had never come up as an issue or topic or real thing; then, one day, I read a news article about it and now Sweetie and I can't stop worrying about it, despite the fact that it apparently happens about once every 39 1/2 years and is so newsworthy, when it does happen, that it makes headlines across the country. Before we read the "dry drowning" article, the Babies! would play in their kiddie pool or splash in their bath and if they coughed or sputtered, we thought it was cute. After reading the article, every sniffle they have within a mile of water is grounds for concern. "
Is he dry-drowning?
" we ask. We check his pupils, unsure how they looked before the baby coughed. We try to listen to his heart. "
Say something
," we say, but the Babies! don't say much most of the time.
That's how it goes with us, me in particular. There's no malady so rare or unlikely that I don't potentially have it, and no accident so rare that it could not happen to the boys if I'm not vigilant. Before they were born, I read an article about a circumcision that went wrong. So when they went to get circumcised in the hospital, I made sure I went along to monitor. I'm not sure what I was looking for--
is the doctor drunk? Is his scalpel rusty?
-- or what I'd do, or in fact how I'd know if something went wrong.
Around the time they were born, too, I read a different story about a boy who was playing and tripped into a coffee table and did something horrible to his brain that required a team of surgeons to remedy. All of the corners in our house have been covered with as much padding as we can round up; blankets are duct-taped to coffee tables to round off the edges a little and we strapped a pillow to a support tower in our house.
If I were to read an article that a toddler had been killed by a meteorite, I'd never let the boys outside.
So The Boy and I took the Babies! to the pool and watched as they toddled around and about every two second flung themselves towards the deep end or a cement wall, coming up sputtering and breathing hard and smiling and laughing, which did not assuage my fears because I was pretty sure the other boy had smiled and laughed, too, and then he'd dropped dead. After about an hour,
the Babies!
were tiring out, so we walked back to the time share to wait for Sweetie and Middle, and I got even more worried.
These Babies! never tire out
, I kept thinking. Lethargy is a sign of dry-drowning (and of swimming for an hour in the hot sun, but forget about that.) So while we waited, I kept trying to rouse the boys, pump them up, see if they were okay. The only thing that kept me calm was that I knew we were never more than four feet from one of the walk-in clinics.
They were okay, though, and Sweetie and Middle eventually rejoined us; we all set out for Tampa to visit Matt and see the beach. That meant more driving through a lack of scenery, and also trying to find a beach when, technically, beaches do not have addresses.
Matt had told us to meet him at "St. Pete's Beach," and in trying to look it up, I'd found "St. Pete's Beach City," which actually exists. There was a mailing address for "St. Pete's Beach City," but not an address for the
beach
itself. So I mapquested us to the City's address, figuring if we got to the
city
, the beach would have to be pretty obvious, right?
That's logical thinking for you:
logic is always wrong.
Plus, it's wronger when I overthink things. We drove the 87 miles to Tampa and then crossed the giant bridge that you have to cross to get to the beach. The bridge is so large that they warn you to check your gas before you get on it. We were driving along and saw a sign that said something like "Long Bridge. Check gas."
How long is this bridge?
I wondered. We were supposed to be swimming on the Gulf of Mexico at St. Pete's Beach, but maybe, I suppose, the beach could have been on the
Mexico
side of the gulf.
Periodically, I checked in with Matt by cell phone. "
Follow the signs to the beach,"
he told me, and that made sense. I assumed there
would
be signs, and I assumed that it would not be hard to find the beach, anyway, because I was sure I could find the
ocean
, and if you can find the ocean, the beach will be right next to it.
After we crossed the giant bridge, I learned how wrong all of that "logic" was. It's always better to rely, as I and Stephen Hawking usually do, on a combination of paranoia, hyperbole, and half-truths than to trust "logic," and the trip to the beach shows why.
First of all, I assumed that there would be sign
s
to the beach. I assumed that because (a) more than one sign is usually necessary to find a thing, and (b) Matt had said to follow the sign
s
. But, as we learned, Matt was misleading about Florida all the time: rain never stopped. And there was only
one
sign. We saw a sign that said "St. Pete's Beach 14." That sparked a debate about whether it meant
fourteen miles away
, or
exit 14
. It also did not say
what
would happen at 14... would we get off? Turn left? Be on the beach?
We drove on while debating, and the highway split apart. One side was labeled with a sign I did not see; the other side, the side
I
took, was labeled "St. Petersburg," and I took that because it was
logical
-- wouldn't
St. Pete's Beach
be in
St. Petersburg?
Nope.
We drove past the Devil Rays' stadium, and into St. Peterburg, where I announced that it was America's oldest city and everyone ignored me, and where I said we were almost at the beach, and everyone was skeptical about that. We drove a few more minutes, and then I saw water, and put my plan into action: I'd found the ocean, the beach had to be nearby, right?
Nope.
We hit a street that ran along the ocean and the marina, and I guessed and turned right, figuring I'd follow the ocean until I got to the beach. 15 minutes later, I'd ended up in a dead end at a government office, no ocean or beach in sight, and calling Matt on his cell phone.
"
How do we get to the ocean?"
I asked, when he answered. He said he would use his phone's GPS to get us a route, but then called back.
"
It's not working,"
he said.
"
Well, you live here. How do we get to the beach?"
I asked him.
"
I don't know,"
he said.
"
You don't know?
"
"
Well, I know how to get to the beach from where I am, but not from where YOU are."
Through some guesswork and random turns, we made it to the actual city of St. Pete's Beach, parked the car, reslathered the Babies!, and hit the beach. For the next two hours, we'd float in the ocean, watch the Babies! try to steal toys from other kids on the beach, and shuffle our feet to avoid stepping on sting rays as the signs advised us to do. (
"You shouldn't worry about them,"
Matt said. "
They just put up those signs for legal reasons.
")(If you're keeping track, the list of things that Floridians don't worry about but sane people do now includes hurricanes/tropical storms, alligators, sharks, rain, and sting rays.)
Two hours is all I can take of the beach. I've never, to be honest, seen the appeal of swimming. I go to a pool or the lake or the beach, I go into the water, I swim a little, do a couple of flips or headstands, and then what? Float? Floating is sitting with work added to it, and minus relaxation. I can't
float
and read a book or drink a soda, but I do have to tread water. This beach, like most other beaches in my life, too, was a bit of a disappointment.
Beaches, based on a lifetime of movies and
Ranger Rick
magazines, are supposed to be one of two things: They are either full of boardwalks and t-shirt shops and vendors and crashing waves to surf and body-surf on, the kind of beach where if you wait a few minutes Jack Tripper will roller-skate by and fall down laughing; or, they are supposed to be havens of sea life where tidal pools hold sea urchins and starfish and shells wash up on shore and teeming schools of fish dart back and forth while birds overhead hunt them.
This beach was
none
of that. Some beaches hit one or two of those marks. The one we went to in Puerta Vallarta a long time ago, for example, had souvenir stands and a pirate ship docked offshore and people roaming around selling stuff. They'd come up and hold up what they were selling as we lay on the beach. We'd be sunning ourselves after a round of swimming and someone would come up and hold up some soda, or a variety of bracelets and jewelry, or gum -- there were lots of gum vendors in Mexico, including a kid who climbed a six-foot wall to sell us some Chiclets. I had to buy them; I can't ignore that kind of effort. Once, on the beach, a woman came up and showed us a picture of a girl who appeared to be about 17. We were shocked and offended.
No
, we tried to say in sign language and Spanish that was limited to
hable despacio por favor
(
"
speak more slowly please," one of two Spanish phrases I know by heart)(The other is
donde esta el cuarto de bano?
).
No
, we motioned,
we do NOT want to buy a girl.
Later, we learned that what she was selling was
braiding hair
, and the girl was the braid-model. Still, you can't be too careful.
I've never found the
haven of wildlife
beach.
Ranger Rick
, like Matt, is not to be trusted.
This beach was very nice, though; the sand was soft, the water was as warm as bath water, and it stretched for miles. We were sorry to leave it when we did, but we had to stop at Matt's house for dinner, a dinner that seemed to have caught Matt unawares despite the fact that we'd planned it for several days and he'd invited us; when we got to his house, we had to run to the store to get the stuff to make the dinner with. Once we had that, he had to run
back
to the store to get the stuff to cook the stuff we'd bought to make dinner with. As he was heading out the door a second time, with his LP tank, I wanted to say "
Are you sure you have a grill?
" but I kept quiet because I try to be a good houseguest, even in a house that is as fraught with peril for the Babies! as Matt's was.
Matt's house was like a training ground for parents; it packed virtually every imaginable danger into its ranch-house confines. Swimming pool without fence around it?
Check.
Dog?
Check.
Sharp-edged pictures and heavy things hanging on the walls at eye level to a two year old?
Got it.
Collection of knives?
Right here.
Plus, because this was Florida, there were probably alligators all over; that wasn't just our imagination. Matt's wife showed Sweetie and the older kids the spot down the street where they sometimes see alligators.
Matt added to the sense of peril by describing his adventures as a jogger; Matt and I exist at opposite ends of the spectrum and so as I have been slowing down and cutting back on "traditional" exercise like jogging and biking in favor of "nontraditional" exercise like Cloverfield! and watching TV, Matt has begun training for the Chicago Marathon, and so he runs about 100 miles a day. Each of his routes seems to have been picked out for the level of danger it presented; he had stories of nearly falling into pits that were hidden in the dark, for example. So to the list of things Floridians are hearty enough not to worry about, add:
jogging in a pit-strewn field in the dark.
It made me think Matt had a real-life
"Pitfall
" game set up for his practices.
Dinner was excellent, when it was ready, but my enjoyment was diminished a little by the obvious differences Matt and I exhibited. Someone who runs hundreds of miles at a time, narrowly avoiding pits and alligators and probably swinging on vines can eat anything they want and still look like Matt did: all stringy and muscular and thin.
Someone who proudly made his way through the pizza buffet a
fourth
time the night before, and who had reason to know that an apple fritter is not a doughnut, as I do, and whose main form of exercise in the past few days had been carrying his souvenir Gatorland cup, does
not
look like that. I looked sort of like a
melting
version of Matt: saggier and with weird tan lines. Eating dinner across the table from the healthy, nonmelty version of me took away some of my appetite. (Don't worry; I soldiered through.)
Eventually, even good things like that had to come to an end, in this case about two hours after I'd planned them to, because I didn't want Florida to end. I knew once we left Matt's we were heading back to the time share to pack, and then to the airport at 4 a.m. the next day to head back home, with another vacation behind us. So I stretched it out and out and out but we had to go and we got back, got everything packed up, and everyone got an hour or two's sleep before we piled into the minivan one more time for the last little jaunt back to the airport and home.
The trip home was somewhat anticlimactic. Because we left so early, by design, we had short lines at the airport and the car drop off, and ended up at the terminal with almost an hour before the flight left. That left me enough time to sneak off with Mr F and get some souvenir t-shirts for everyone at one of those airport shops, something we accomplished one inch at a time because Mr F had found a piece of cardboard to play with, and what he wanted to do was drop it, pick it up, and drop it. After inching through the airport shop for a half-hour, we had the t-shirts I wanted and headed back.
We also had a wait at O'Hare for about an hour and a half, which we filled up by eating more McGriddles and by trying to find a place to change the Babies!. It's not easy to find a secluded spot in O'Hare airport; I located one just to the side of a Starbucks' stand, by a plant, where I changed both diapers while distracting the Babies! with straws to play with.
Straws, we'd learned, were the
perfect
distractor for toddlers. Tear the paper off, and give them a straw, and they're happy for almost a minute, blowing in it, twisting it, chewing it, and then thowing it. You then give them another one and they go through the whole routine again. We'd developed the habit, wherever we went, of having everyone grab a handful of straws, and O'Hare was no different, as The Boy and I each had a pocketful of them from our trip to McDonalds.
We were, of course, exhausted by then, ready to drop. Sweetie and I had gotten maybe five hours' sleep in five days, and just wanted to make it back home with most of our luggage and a majority of our kids. Standards really, really, drop when you're tired. On the way down there, we'd been careful to keep up appearances. We'd guarded Mr F and changed their diapers as privately as we could and made them eat their breakfasts sitting on our lap.
On the way back, our path was marked by the trail of straws, and when Mr F threw some McGriddle on the floor and then picked it up and ate it, I reasoned that nothing that was on the floor of O'Hare airport was any more hazardous than what was already in the McGriddle itself. Then I gave him some more straws.
We got back home around noon on Sunday, exhausted, with sand still in our clothes and suitcases, needing to unpack the alligator toys and seashell ship and wet clothes, out of straws and money and energy, and, for me, melancholy that another vacation had ended. I busied myself with the various tasks to fill that void, putting dirty clothes downstairs and putting away suitcases and getting groceries. I told myself that I had my "Gatorland U" shirt and my seashell ship and hundreds of pictures to remember our vacation.
And I of course had my one abiding memory of Orlando:
Read About The Other Days of My Vacation:
Day One: Please don't feed McGriddles to the Alligators.
Day Two: Fish Bones, No Bones & Billy Pilgrim
Fishes: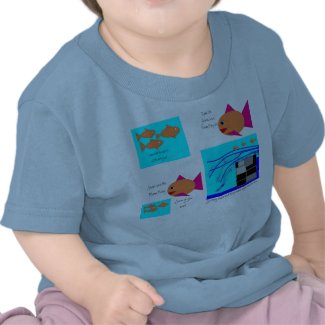 Three Little Fishes
by

brianefp

Get this
custom shirt
at
Zazzle
Want a free t-shirt
? Of course you do. Click there to find out how you can get one courtesy of
The Best of Everything: Our Opinions Are Righter Than Yours
.
The Best of Everything: Our Opinions Are Righter Than Yours! Find out what's The Best in any category you can think of, and a lot you can't. Best Simpson Sister? Best Candy Bar to Eat In Sections? Best Plot Twist That Makes a Lame Song Cool? Best Sexy Sci-fi Alien Chick? They're all here—and more!